Autonomie: Integrated Electronic Solutions for Human Assistance
autonomy
\o?-'tä-n?-me\ - self-directing freedom and moral independence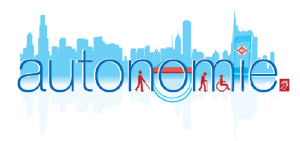 To obtain information, assess and determine courses of actions, to decide and to act. Autonomy is a fundamental characteristic of moral, independent, adult human beings. But many do not benefit from full autonomy in their everyday lives because one or more handicaps limit the information that they can obtain, or the possibility to act on that information. A person with failing eye sight cannot easily identify or read posted public information. The hearing impaired may not detect audible cues about their environment that would help them avoid hazards. Persons with mobility limitations may not be able to identify access ways that are adapted to them.
The Autonomie project was conceived to find ways in which integrated electronic solutions can facilitate the sight impaired person's access to public places, transit and services. Founded by an engineer who experienced himself the partial loss of his eyesight, the Autonomie project has developed into a consortium of industry and research partners dedicated to creating and providing affordable technologies that facilitate the autonomy of persons suffering handicaps.
Technologies Facilitating Autonomy
Consortium members working in collaboration with handicapped persons, have defined new technologies to facilitate autonomy, notably in the areas of:
Precision locating using indoor/outdoor mapping and points of interest
Navigation with and without a GPS signals facilitated by MEMS sensors, RF technologies and Real Time Localization System
Environment information and alerts with augmented reality (audio, image, video, ...)
To support human assistance application requirements, the consortium promotes solutions for portable platforms such as the EvoPrimer, which serve as an open and evolutive demonstrator and application development tool. On the platform, developers can try ideas and demonstrate their applications taking advantage of:
Portability (battery powered)
Audio input/output, large color LCD touchscreen, memory extension
GPS reference application
Complete sofware development tool set
For more information about Autonomie and related technology, go to http://autonomie.minalogic.net
How You Can Help Build an Open World
Demonstrating your creative ideas and applications is the next best step to a world that is open to everyone.
For this reason, the OpenWorld Application Design Contest is looking for your ideas and applications that support persons with disabilities such as:
Sight impairments
Limited mobility
Hearing impairments
Limiting medical conditions
Many types of applications are possible, such as:
Creating precise indoor/outdoor maps including points of interest
Recording and sharing points of interest (hazards, limitations, access points)
Navigation complemented by augmented reality
Monitoring and alerts about user medical conditions, situations or hazards
...
Your application can win from up to $20,000 in prizes and can help promote technology that will bring new opportunities to people with disabilities.
If you aren't certain that your ideas are suited to the competition, read more at http://autonomie.minalogic.net, or post you questions here in the "Autonomie" forum. We're happy to help.
Complete rules about the OpenWorld Application Design Contest is provided here.
The "Autonomie" project has been funded with support from European Union FEDER.
---
Partners for autonomy...

---